By law every patient has a right to receive their medical record. To support this, Stage 3 of the CMS Meaningful Use program is further expanding how a patient can gain electronic access to their health information. In addition to view/download/transmit through patient portals, the measure can be fulfilled by patients retrieving their record within 24 hours of its availability via ONC-certified API in a third party application.
MaxMD developed the Direct To API solution for both patients and providers to query medical records simply by sending a Direct Message. MaxMD leverages the trust-in-identity assured by a Direct Address to provide authentication and authorization of an HL7 request to a FHIR API.
Any hospital or provider organization utilizing a FHIR enabled EHR can meet the MU3 requirement by implementing the Direct To API solution and providing Direct Addresses to their patients. Consolidation of login credentials from multiple patient portals to a singular Direct Address with a familiar mobile app or web interface could help overcome adoption challenges for patients.
The new MaxMD mobile app enabling the Direct To API query plus scalable, secure care coordination is available today on Android devices and will be released shortly on the iOS platform.
The Direct To API query workflow can be fulfilled from desktops and the MaxMD app on mobile devices as mapped out in the sequence below.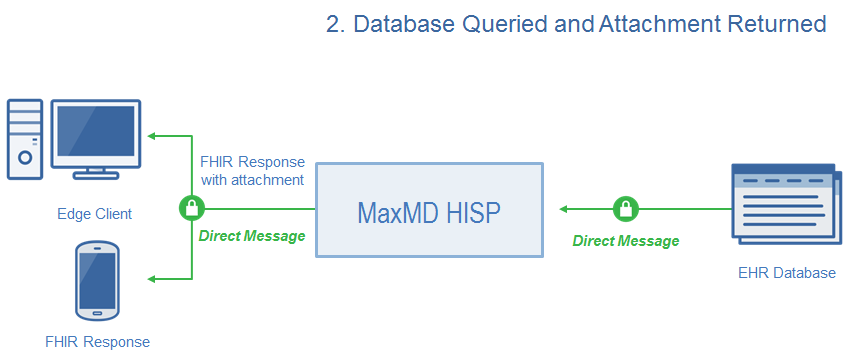 Applications for patient and consumer Direct Messaging extend use cases beyond the new Stage 3 measure. Patient Direct Addresses also open up a secure and scalable channel for chronic disease management, medication reminders, and most importantly it empowers patients to manage their health electronically. See Patient and Consumer Direct Messaging for more information. A full demo of the web-based Direct To API workflow can be seen in the video below.