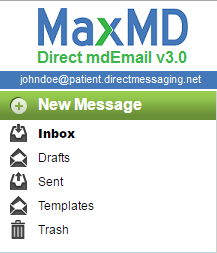 As a respected industry leader, MaxMD's Direct mdEmail® is the right solution for any consumer or patient looking to securely communicate with their care providers using Direct Secure Messaging.
Direct mdEmail® is a simple application that looks and acts like regular email. It can be used on the internet, mobile devices, or added to email applications such as Microsoft Outlook. Direct mdEmail® meets the highest national standards for ensuring your protected health information remains private and can only be viewed by those you choose to communicate with
Registration can be completed in minutes using MaxMD's secure online form allowing for fast access to a custom Direct Address so that you can receive a copy of your medical record. Your personal Direct Address will be formatted similar to yourname@patient.directmessaging.net.
Features of Direct mdEmail® include alerts sent to your primary email address notifying you of a new Direct Message in your inbox and a one-click medical record viewer to easily view or print a copy of your medical record. MaxMD provides seamless coordination with the entire DirectTrust network and its participants which includes over 1 million healthcare providers.
MaxMD was one of the first to earn full accreditation to provide Direct Messaging services and currently leads numerous workgroups which establish the policy standards for Direct nationwide. You can be at ease knowing your data is safe and you are only communicating with those who you trust.
If you are interested in learning more about Direct Secure Messaging please click